Characteristics of the Chemical Business
Consulting and solutions are our themes.
We take advantage of many years of experience with ion-exchange resins and separation membranes to propose systems that meet customer needs, from pure water treatment to wastewater treatment,
and to provide the ultimate level of performance as a company specializing in water treatment.
From providing ion-exchange resins, separation membranes, and water treatment chemicals to offering services from fabrication to recycling treatment as well as equipment design, construction and maintenance
Comprehensive support, from fabrication to recycling treatment


We offer comprehensive support, from collaborative analysis to proposals of separation methods,
table testing, pilot testing, and equipment installation.
Please contact us to discuss your water-related project and find out how we can assist,
including with loan equipment, design, maintenance, and consulting services.
Products and services
Equipment
We operate an array of treatment equipment related to ion-exchange resins and separation membranes. We can accommodate processing on all scales, and we can meet a broad range of needs, from semiconductor-grade to food and pharmaceuticals and even wastewater treatment applications.
Cleaning, regeneration, and ion substitution equipment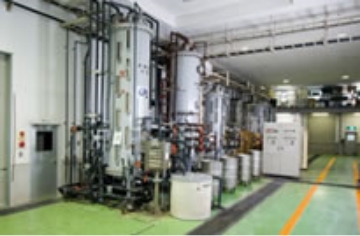 Performs everything from regeneration of ion-exchange resin for pure water to substitution to the desired iron shape, pure water cleaning, and ultrapure water cleaning.
Can also perform thermal regeneration and hot pure water cleaning.
For specialty applications, the catalyst support and resin particle size can be adjusted through classification, or deodorization treatment can be performed on the resin, for example.
Ultrapure water cleaning and manufacturing equipment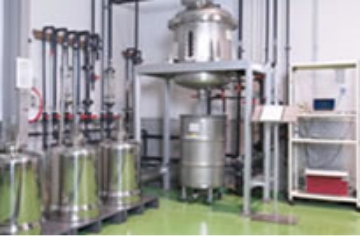 A polisher tank for ultrapure water sampling is filled with ion-exchange resin that is then cleaned with ultrapure water.
After cleaning, nitrogen purging is performed on the polisher tank before delivering the product.
Ion-exchange resin dryers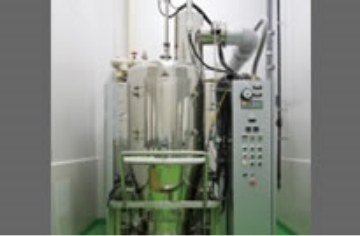 We dry ion-exchange resins using a fluid bed dryer. The system is installed in a clean environment to prevent contamination. This dryer is specially designed for ion-exchange resin, and can efficiently dry ion-exchange resin without reducing its performance.
Ion-exchange resin mills/classifier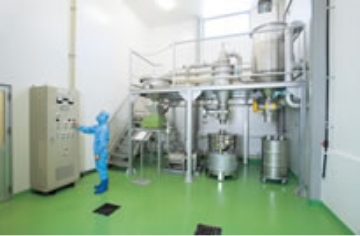 Ion-exchange resins are transported at low speed using a suction-driven high-concentration pneumatic transport system and used to fill primary packaging containers while minimizing product loss.
Our system, which can transport 60 kg per hour, automatically handles the entire filling process, up to ejection of the filled containers.
MF/UF membrane cleaners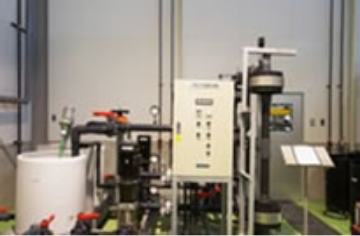 On-site start-up times can be reduced by cleaning MF and UF membranes.
Additionally, used MF and UF membranes can be reused by subjecting them to chemical cleaning.
RO membrane cleaners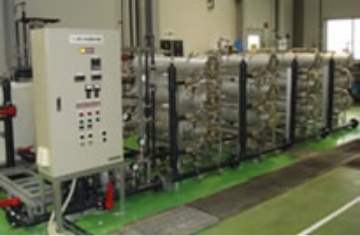 On-site start-up times can be reduced by cleaning RO membranes with ultrapure water. Additionally, RO membranes can be reused by subjecting them to chemical cleaning.
Pure-water manufacturing equipment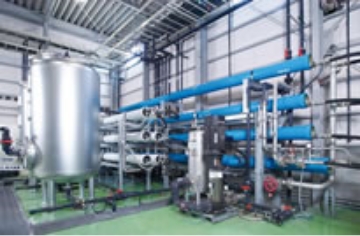 Our high-purity pure-water manufacturing systems, which can also be used in semiconductor manufacturing, have applications in our own product manufacturing and cleaning operations, including in the Pharmaceutical Business, Chemical Business, and Functional Materials Business.
Different systems for manufacturing ultrapure water, pure water, and RO water are used depending on the product being manufactured.
Basic knowledge