Characteristics of the Pharmaceutical Business
Providing high quality, affordable products
With recent advances in medical technology, mean life expectancy is increasing in Japan and all over the world.
Health has always been most highly valued in people's lives, across the ages.
Since its founding in 1917, Muromachi Chemicals has continued promoting the health of the community through the production and sale of medical and pharmaceutical products.
We are licensed to carry out pharmaceutical manufacturing business (packaging, labeling, storage) and pharmaceutical marketing business (wholesale).
We work with a vast range of high quality raw materials for pharmaceuticals, including active pharmaceutical ingredients, intermediates, and additives, providing a safe and stable supply for manufacturers and sellers.
- Pharmaceutical Manufacturer's License: No. 40AZ006003
- Pharmaceutical Marketing License: No. 513009
Pharmaceutical manufacturing and processing
01

Long-running reliability and track record

We have built up years of results, earning our customers' trust.
02

Safe, secure product manufacturing

We strive daily to quickly and stably supply highly safe generic and other products with a high growth potential to meet diverse market needs.
03

Extensive experience and knowledge

On account of our vast experience and knowledge, we have been entrusted with diverse synthesis and purification requests from numerous pharmaceutical companies, responding to the need for greater diversification and sophistication.
04

Active product development initiatives

We undertake development of new products to lead coming generations, with the aim of commercializing in-house developed products in line with market growth potential, collecting information, and achieving actual results.
05

Licensing and trustworthiness

We have a Pharmaceutical Manufacturer's License in accordance with Pharmaceutical Affairs Law, and have garnered trust and achieved great results over many years with our advanced production and quality control systems.
Products and services
Equipment
Reaction tanks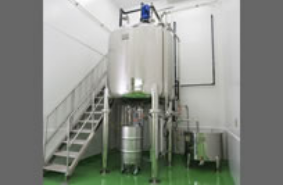 Capacity: 4,000 L
These tanks are equipped with stirrers that can reach speeds of up to 17,700 rotations per hour to induce water-related chemical reactions.
Dryers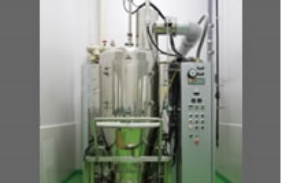 Fluidized dryer with the 190 L batch capacity. The heater and exhaust air temperatures, drying time, airflow, and agitator speed can be set and adjusted. The desired moisture percentage can be achieved by combining these settings.。
Mills/classifiers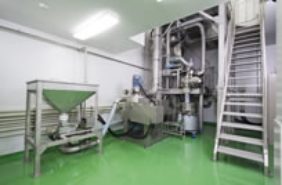 Mills: Dry-type milling is performed with impact mills capable of grinding as much as 150 kg an hour. Classifiers: These classifiers are capable of processing up to 60 kg an hour. The grain size for these machines can be adjusted according to request, from a main size of 10 to 150 μm. They also have a final sieve to prevent mixing in of impurities after classification.
Filling equipment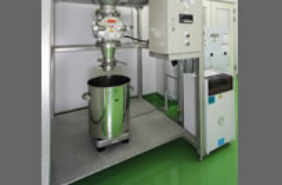 Primary package filling is performed using a suction type high concentration pneumatic conveyor for low-speed transfer to minimize damage to products.
Our system, which can transport 60 kg per hour, automatically handles the entire filling process, up to ejection of the filled containers.